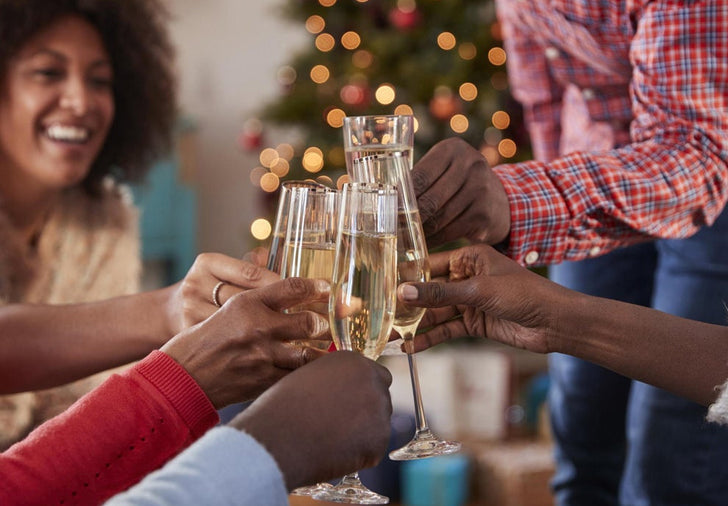 During a recent call, one of my four sisters challenged members of the family to consider buying exclusively "Black" for Christmas gifting. There was a noticeable pause amongst the call's participants as we all tried to process what that would mean...to buy and receive gifts solely from black-owned businesses. Though I have been advocating support of black entrepreneurs for more than a decade (well before it got trendy) even I had the makings of a fleeting panic attack with thoughts of tracking down the ideal gifts for friends and family given the parameters. Those on the call sort of virtually nodded and quickly moved on to the next topic, but my sister's proposition stuck with me.
As I began rooting around the internet and reflecting upon all the black-owned businesses I had supported, especially over the past year in solidarity with #blacklivesmatter, I thought to myself "self--if not now, when?" The process was a bit like a treasure hunt, but I think I've selected some great items. Now I am excited to share with you ten of my top gift picks for the 2021 Holiday Season that offer a range of price points and can be ordered online and shipped. I believe your recipients will be well pleased if in receipt of any of these glorious items. Happy holidays!
1. Estelle Colored Glass - Set of 6 Stemware Pieces
Wow your guests with hand-blown colored wine glasses made by glass artisans in Poland. Inspired by the founder's grandmother, Estelle, who loved antiquing, their pieces are best described as "jewels for your table," and are refined, yet modern enough to start a revival of colored glass that is reminiscent of a past time. Set of six stemware pieces includes lavender, amethyst, forest green, coral, peach pink, yellow, and cobalt blue.
TO SHOP: $175 | www.estellecoloredglass.com
2. Shea Radiance - Self Care Beauty Bundle  
Started by mothers making products in their kitchen to help solve their boys' very dry and eczema-prone skin, and inspired by the traditional uses of unrefined shea butter, this moisture packed set is perfect for drying winter days. The bundle includes the African Black Bar, African Soap Body Wash, 100% Sisal Wash Cloth and Whipped Shea Butter for skin cleansing and long-lasting moisture. Available in lavender and rosemary, citrus and spearmint, and unscented.
TO SHOP: $50 | www.shearadiance.com

3. Camella's Kitchen - 9" Round Caribbean Fruit Cake
This ain't your Nana's fruitcake… well maybe it is and it's delicious! Having learned her trade from her mother Ms. Camella, the founder Karen also received a food certification while living in Trinidad. Karen has passed her trade down to daughter Nyana who together through their love of cooking and passion for Caribbean culture are continuing the legacy of Ms. Camella. This traditional Caribbean fruit cake (black cake) is enhanced with tropical spices and soaked with just enough rum to transport you to the islands!
TO SHOP: $60 | www.camellaskitchen.com
4. P. Harrell Wine - Holiday Bundle
After years of engaging with wine culture as a hobby, Paula Harrel's great passion and appreciation for all things wine led her to start her own private label in 2015. Now as a winemaker and vintner, Paula is dedicated to producing her private wine label and sharing her cultural heritage with others one pour at a time. Wow wine lovers with her entire collection of three varietals including a Riesling, Zinfandel, and Rosé produced in Dry Creek Valley and Forestville of Sonoma County, California.
TO SHOP: $68 | www.pharrellwines.com/Store/Merchandise

5. Harlem Candle Co. - ULTIMATE Candle Gift Box
This gift comes packaged in a luxury gift box that includes four full size 12 oz candles featuring signature Harlem Candle Co. scents: Holiday, Josephine, Sugar Hill and Langston. Each candle celebrates an iconic figure or place during the Harlem Renaissance. The special gift box features a large print of the "Night Club Map of Harlem" from 1932 can be reused (by removing the foam insert) to store personal items such as lingerie, perfumes, and jewelry.
TO SHOP: $180 | www.harlemcandlecompany.com

6. Bevel - Daily Essentials Bundle
Bevel has been at the forefront of creating products that work to solve the unique grooming issues faced by men of color. They have launched a full Skin Care regimen, a Shave System, and the Bevel Trimmer, and provide products designed to help reduce skin irritation and razor bumps. This luxe package includes Bevel Hair favorites, along with their entire Bevel Skin and Body collections available in Supreme Oak and Black Bergamot options.
TO SHOP: $85 | www.getbevel.com
7. Aba Love Apothecary - Big Glow Up
The founder's love of plant medicine led her to a discovery of exotic flowers, precious oils, sacred woods and resins that were rich in telling the stories of nature's secrets. Find this and more in this ultimate clean beauty skincare gift for a head to toe glow. The set includes a mist and toner to keep skin feeling supple and soothed in dry climates with Rose, Lavender, Chamomile and Helichrysum hydrosols. The facial serum is a brightening, clarifying oil perfect for daily facial massage with Calendula infused grapeseed oil and helichrysum, rose damascena, geranium and neroli essential oils. Also included is a powerful skin tonic to promote healthy skin texture and enliven complexion with geranium, frankincense and cypress oils.
TO SHOP: $180 | www.abaloveapothecary.com
8. Robin Wilson Home - 300 Thread Count Deep Pocket Sheet Set
Robin Wilson is a lifestyle brand, author, designer and real estate developer who works to educate consumers about hypoallergenic, sustainable and eco-friendly lifestyle options High-quality sheets are a great way to help anyone on your gift-list come back from the holidays truly refreshed. Giving someone sheets is a great way to be friendly and compassionate. They will rest easy on this 300 thread count sheet set with a patented fitted sheet with an accordion that spans the width of the sheet to prevent roll-up during the sleep cycle, two pillowcases (standard/king), one flat sheet, and one fitted sheet.
TO SHOP: $63-$95 | www.robinwilsonhome.com

9. Mented Cosmetics - Sleigh Sis Gloss Collection
Mented was conceived by two enterprising ladies one night over a glass of pinot, as they discussed why it was so hard for women of color to find the perfect nude lipstick. This set of "Gloss for Grownups" is ready for gifting in a custom holiday box. Mented lipgloss is shiny and smooth without overdoing it, and provides just the right amount of color. All lip glosses are vegan, cruelty free, and made in America. Collection includes: Baby Brown, Send Nudes, Berry Me, and Mauve Over.
TO SHOP: $50 | www.mentedcosmetics.com

10. Golde - Total Golde Holiday Kit
This growing superfood essentials company was hatched in Brooklyn in 2017 in a one bedroom apartment. Promote wellness and help your gift recipient feel their best, naturally. The ultimate kit for superfood lovers includes: 3 Superfood Latte Blends (Original Turmeric, Matcha Turmeric, Cacao Turmeric); 2 Superfood Face Masks (Clean Greens, Papaya Bright); and Pure Matcha. Golde's website also features fun recipes to make the most of these superfood blends.
TO SHOP: $165 | www.golde.co
Share this